For years, Barrell Craft Spirits had what its founder deemed as a daily "Tetris problem" at its original Louisville facility — as trucks delivered hundreds of barrels at a time from multiple states throughout the country used to make its cask-strength, blended bourbons and other spirits.
As an independent blender, Barrell Craft Spirits works with approximately 65 different producers to create its premium aged bourbons, whiskeys, ryes and rums. This created weekly headaches for founder Joe Beatrice and his team, which has grown as the company scaled to meet rising demand for its award-winning blends.
"We need to have enough advance notice to the distillery or the rickhouse, what [barrels] we want to pull, get the truck there, get it loaded, bring it in and get it unloaded and get processed," Beatrice told me.
The company, founded in 2013, had been looking for a year for a new rickhouse facility within a reasonable radius of their 13,500-square-foot location at 3311 Gilmore Industrial Blvd. to create more barrel storage.
Then, the right property went up for sale in late December. Barrell Craft Spirits reached a $2.41 million deal with Louisville Distilling Co., the owner of Angel's Envy, to purchase a five-story rickhouse in Shively with more than 89,000 square feet.
"This came on the market," Beatrice said. "We made an offer in the morning, and we made a deal a couple of days later."
The building, located at 3430 Seventh Street Road, was initially built in 1940 as part of a Yellowstone Distillery campus, which opened shortly after the repeal of Prohibition in 1933. It can house 17,620 barrels. Angel's Envy's parent company purchased the facility in 2013.
Louisville Distilling Co. — which has moved its barrels to its new property in Henry County — was represented by Stephen Lannert with JLL. Barrell Craft Spirits was represented by Seth Edens with TRIO Commercial Property Group.
Beatrice said he made an offer four hours after he toured the facility. He hopes to start moving barrels into the rickhouse by the end of the month.
Meanwhile, Barrell Craft Spirits also remains focused on moving the heart of its operations to a new Jeffersontown facility.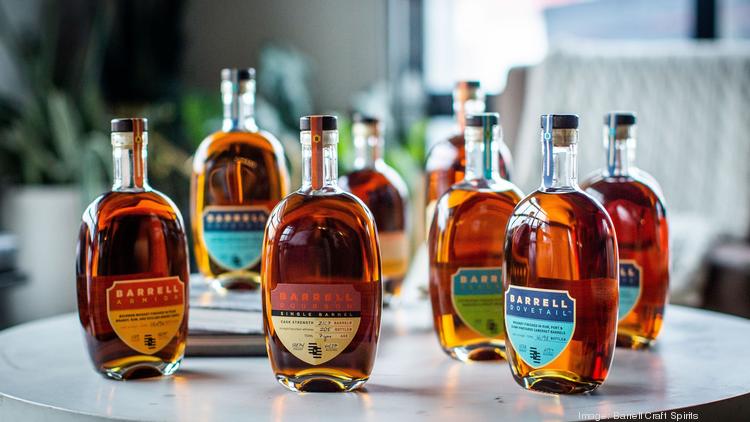 Located at 2100 Watterson Trail, the 31,000-square-foot facility will house a majority of the blending processes as well as bottling, marketing, merchandising and management operations. The facility will include four 6,000-gallon tanks and four 8,000-gallon tanks used for blending. For comparison, the current facility sports two 6,000-gallon tanks, plus a variety of smaller ones.
The initial Jeffersontown project was tagged at $3.2 million, but Beatrice said it will be closer to a $15 million investment.
Beatrice said he hopes to be moved into the new Watterson Trail building by no later than April, adding the company will still retain its current facility — as it prepares to hire approximately 15 more employees by the end of 2023 to add to its current headcount of nearly 60.
The uptick in employees corresponds to the overall growth of the company. From 2018 to 2022, Beatrice said Barrell Craft Spirits had a compound annual growth rate of 106%. He declined to disclose the company's annual revenue.
"We're expanding," he said. "We've grown so fast that we're trying to build, digest and expand pretty quickly … Business is phenomenal."
The company's products are sold in 49 states, as well as in Puerto Rico, Canada, the United Kingdom and Australia.
Without having the official statistics at his reach, Beatrice added that his company's top seller for 2022 was its Seagrass, which is a blend of its American and Canadian whiskeys.
Another product, though, that will surely make waves in 2023 is Vantage, a blend of straight bourbons finished in three types of virgin oak casks. Released in September, Vantage was named No. 3 on Whisky Advocate's Top 20 Whiskies of 2022.