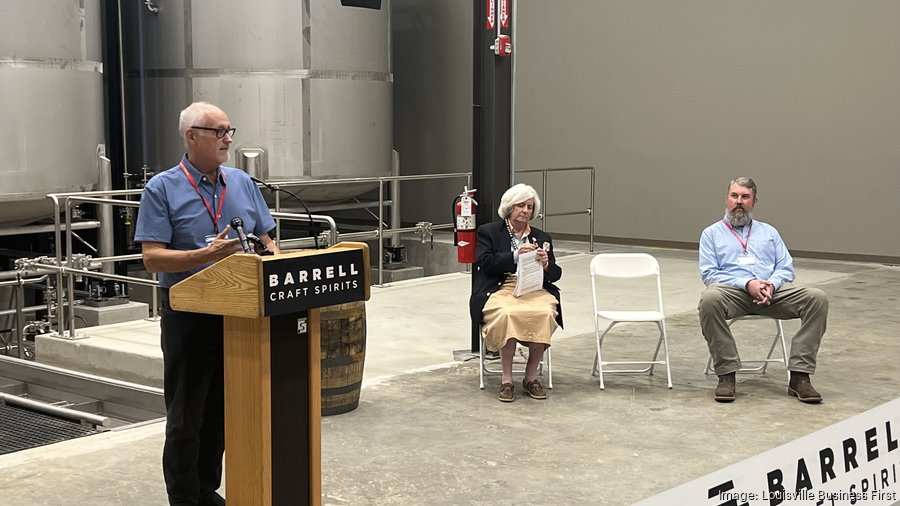 'Tis the season for bourbon.
With September being Bourbon Heritage Month and the Kentucky Bourbon Festival kicking off this weekend in Bardstown, one of the largest names in bourbon blending and finishing unveiled its newest facility at a ribbon cutting ceremony in Jeffersontown on Thursday afternoon.
Barrell Craft Spirits has been around since 2013, but its growing popularity for blended and finished cask-strength bourbon and other spirits over the years has resulted in a need for more space for storage and overall production.
First, Barrell Craft Spirits founder Joe Beatrice acquired a rickhouse in Shively to help address his "Tetris problem" of moving around barrels.
Now, comes the $15 million, 31,500-square-foot facility that has been two years in the making for Beatrice and his team to ramp up its capacities at all levels.
"This is a milestone for a company," Beatrice told me while standing in the new flavor lab, which is considerably larger in size compared to the old one that I visited back in March. "This is the beginning of the next phase of our business."
As it was shared in the opening comments, Beatrice, a native New Yorker, recalled in 2013 how he "pounded the pavement" on his way to liquor stores to create retail accounts in the New York Metro area. That was all while operating largely out of his living room and blending with a 1,000-gallon tank. And as Susan Reigler —the day's master of ceremonies and author of several bourbon books — put it: "Ten years ago, when this launched, blending was very bad word in the bourbon industry."
Today, the brand is now available in every state but Hawaii — and at last check, had a compound annual growth rate of 106% from 2018 to 2022.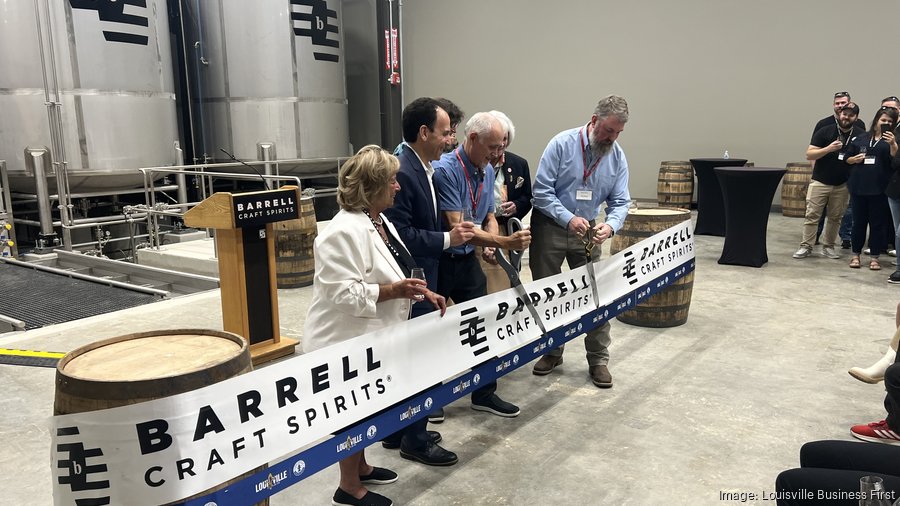 "We went against the grain from day one," Beatrice told the crowd. "We were transparent about what we did. We're proud of being a blender and also proud of being a non-distilling producer — and that strategy really paid off."
The new facility will have blending tanks capable of holding a total of 64,000 gallons of distilled spirits at one time, adding approximately 50,000 more gallons than its current blending operations at its 13,500-square-foot facility at 3311 Gilmore Industrial Boulevard.
'A totally different landscape'
Before the event, I spoke with Brook Smith, who was one of Barrell's first investors around six years ago when Beatrice first started looking for external capital. It was one of Smith's first significant ventures into the bourbon industry. He has sense gotten involved with several other projects in the distillery (one of the first investors in Castle & Key Distillery) and barrel purchasing spaces.
"If you could go back in time, it's a totally different landscape," Smith told me. "It's crazy what has happened — and I give Joe a lot of credit. He's focused. He's a detail-oriented guy, and I think he will get a lot of credit as time goes by for being kind of a catalyst [and] a bit of a revolutionary."
Afterwards, Beatrice told me that he had received the certificate of occupancy two days earlier. Barrell Crafts Spirits will start to shift its operations from the Gilmore facility to the new one, a process that could take up to a year or so. The company has already started to use its bottling line, which will be able to produce a million cases a year in a single shift.
Among those in attendance for the ceremony were Louisville Mayor Craig Greenberg, Jeffersontown Mayor Carol Pike and Jeff Noel, secretary of the Kentucky Cabinet for Economic Development — the first two of whom gave remarks before the ribbon cutting. Pike had mentioned in her speech that the new facility will also create 15 new jobs for the Jeffersontown economy. Barrell Craft Spirits currently has around 55 employees, Beatrice said.