There's a battle brewing for market share in Louisville
James Neumann has been watching Louisville's grocery market ebb and flow for over 30 years.
As the president of local chain ValuMarket, which opened its first store in 1978 under the ownership of his father, he's been around to see the large competitors enter and exit the city. From Meijer to Winn Dixie and Fresh Thyme to Walmart, he's witnessed first-hand how the grocery landscape has changed and how each of those large chains have influenced the market.
"In about '97, the first Walmart and Meijer were built in Louisville, and this was the first time we had any super centers," Neumann said. "It was the first time those two faced each other in the country."
Those players still exist in the market today, but one grocery giant has continued to persist as the first choice for many Louisvillians: The Kroger Co.(NYSE: KR), based nearby in Cincinnati.
"It was purely a war zone in the grocery business, and that was kind of the first time we saw some major entrants come into our market, and both came in pretty aggressively," Neumann continued. "To give Kroger credit, they held about a 50% market share, and they still do today."
The Kroger Co. owns 43% of the local grocery market share, with 43 stores in the area, according to Tampa, Florida-based retail data provider Chain Store Guide (CSG). Next closest is Bentonville, Arkansas-based Walmart Stores Inc., with 16 stores and 23% of the market share, followed by Grand Rapids, Michigan-based Meijer Inc. with six stores and 6.9% of the share.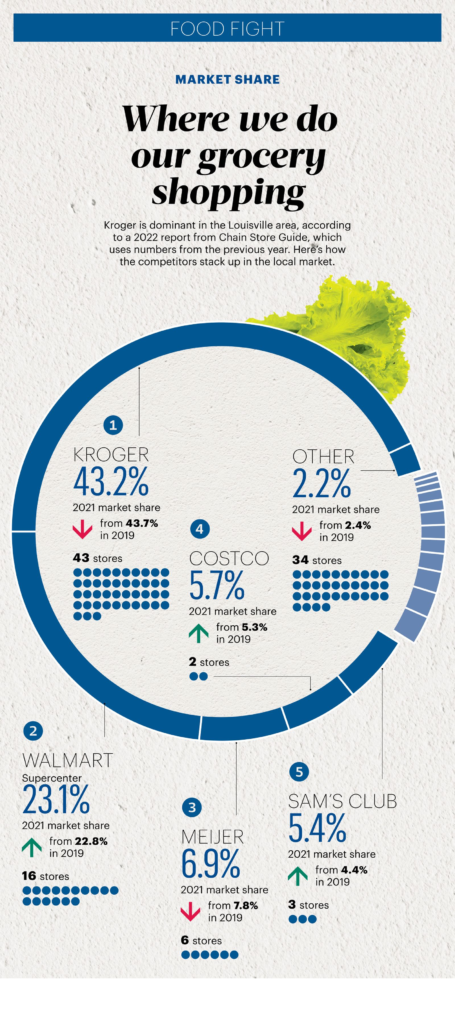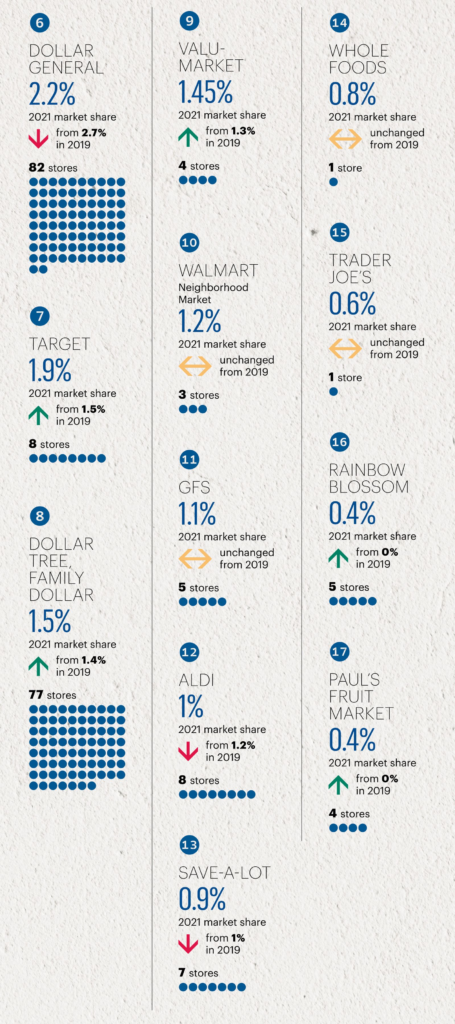 Just like in 1997, the numbers could be shifting soon as two out-of-state grocery chains announced expansions into the Louisville market: Florida-based Publix Super Market Inc. and Iowa-based Hy-Vee.
The timing should be welcomed, as grocery prices were up roughly 10% in April compared to a year ago, according to the U.S. Bureau of Labor statistics.
The increased competition could mean local consumers will see some relief from those rising prices. In addition to that, grocery stores have the power to change shopping centers and traffic patterns. The four new grocery stores announced along Louisville's perimeter are bound to have an impact on their neighborhoods for years to come.
With multiple new stores, people are curious what these new companies will bring to Louisville and how current operators will respond to them.
Neumann said there will be at least one group that this new competition will be sure to benefit — the consumer.
Competition in the grocery market is heating up, so let's meet some of the players.
The newcomers
Publix has been making headway on three Kentucky stores since September.
The grocer broke ground on its first location June 23 at 2500 Terra Crossing Blvd. in the East End. It has two more locations announced: one at the corner of Ballardsville and Brownsboro roads in Louisville and one on Man O'War Boulevard and Harrodsburg Road in Lexington, Kentucky.
Publix CEO Todd Jones said at the groundbreaking of the first Louisville store that the company's expansion plans are always very strategic.
Along with receiving letters from Kentuckians about wanting a store in the Bluegrass State, he said a new distribution center in Greensboro, North Carolina, opening later this summer will be able to support a broader reach in this region.
Publix has over 230,000 employees across 1,296 stores, and one Publix store supports about 150 workers. As the largest employee-owned company in the U.S., eligible associates can acquire public stock in the company each year.
Publix operates a scratch bakery, meaning all the artisan breads are baked fresh daily on premises, Maria Brous, director of media and community relations for Publix, said. That includes the bread that comes with the pub subs, the chain's signature sandwich.
The grocer does its research when entering a new city, so the Louisville market share comes as no surprise. Brous said several of the grocery chains are familiar competitors in other markets.
"We always say that competition benefits the customers most," Brous said. "Everybody's on their 'A' game."
Before entering a competitive landscape, she said company representatives work to understand the market by observing and making connections to ingrain itself in the community. That could involve working with local charities, like Dare to Care, or with the chamber of commerce.
Sometimes, it means visiting competitors in the market and seeing how they operate, because those processes can vary from state-to-state. Brous said the company will bring associates from other areas to live and work in a new market, just to get a better feel for the community.
"Long before we made our announcement of our first and second locations, we've already been in the marketplace," Brous said.
While Brous didn't share the company's full expansion plan in Kentucky, she said it's "aggressively and eagerly" looking for more opportunities.
Publix has an annual revenue of $48 billion, according to its annual report for 2021.
The other newcomer, Hy-Vee, declined to comment for this story. The grocer recently announced its first location will occupy a 150,000-square-foot space in the Southpointe Commons retail development in Fern Creek.
Michael Tabor, founding partner at TRIO Commercial Property Group, represented Southpointe Commons in that transaction.
Hy-Vee's expansion into Louisville was announced by the Des Moines Register, which reported on a video posted to Zipline, the company's internal communications platform, showing Hy-Vee CEO and chairman Randy Edeker detailing the new stores.
In the video, he also shared its intention to build a third distribution center in Nashville, Tennessee, which focuses the chain's long-term expansion plan to open over 20 new stores in the next four years.
"As Hy-Vee continues to grow and evolve, we have so much to offer consumers across the U.S. that we knew it was time to expand our footprint even further," Edeker said in a previous news release. "As customers' shopping habits change and their needs evolve, we have services and offerings that we believe will bring an entirely new retail experience to those in Kentucky."
Hy-Vee's first location will be significantly larger in square footage than some of its competitors, and Tabor said that's because they're known for creating experiences other supermarkets may not have.
While the company has stores that offer a smaller footprint, the larger Hy-Vee locations can include amenities like wine tastings and coffee bars.
While Tabor couldn't speak for Hy-Vee, he theorized why a company like it would be attracted to Fern Creek. He said it has historically been an underserved area in terms of retail.
The area's retail market is growing, but there is still availability for new projects.
The visibility from Bardstown Road and future economic development to likely surround Southpointe Commons also was a consideration.
"There's a site that's available, zoned, ready to go, at a stoplight in a great location. That's why, with enough acreage, it made sense for a grocery store," Tabor said.
He said grocery stores make for great additions to retail shopping centers because of the repeat customer traffic it brings to the trade area. They attract many retailers like hair salons, coffee shops, restaurants, fitness centers, pet stores, medical and other service businesses.
On a larger scale, Tabor said the hole in competition and Louisville's geographic location made it a natural next step for Hy-Vee.
The chain has more than 285 stores across the Midwest, employing over 93,000. According to the company's website, Hy-Vee has $12.2 billion in annual sales.
Outside view
David Livingston, principal consultant at Honolulu-based supermarket research firm DJL Research, said Publix isn't afraid of competition, and the grocery store has competed well against Kroger in other markets.
"The thing with Publix is, when they smell blood, that's when they like to move in," Livingston said.
In a market like Louisville where Kroger has dominance, Publix will test the water first with a few stores. Livingston said Publix's strategy likely will be slow and methodical, so don't expect the company to build an abundance of stores quickly.
Livingston found Hy-Vee's entrance into Louisville and the southeast more unusual. As a Midwestern chain, the company doesn't have the same name recognition as Kroger or Publix, which Livingston said is important in the grocery game.
Along with that, Hy-Vee leapfrogged cities between Louisville and its current markets, like St. Louis. Livingston said slowly expanding as opposed to leapfrogging can help garner that name recognition component.
"I think in order for them to be successful and move into the markets, they need to do it in a continuous fashion and not leapfrog and just randomly drop stores, because they have no name recognition at all," Livingston said.
He said Kroger is good at holding its own when new competition moves in, so it won't be going anywhere anytime soon. Smaller retailers may close with the entrance of large competition though, he said.
The grocery giant
With the 40-plus local stores, Kroger has a stronghold on Louisville.
Ann Reed, Kroger division president for the Louisville market, said in an email Louisville has been a staple community for the grocer. According to the Cincinnati Business Courier, our sister publication, it's the nation's largest operator of traditional supermarkets. Louisville is the grocer's 17th biggest market.
CSG tracked Kroger's Louisville-area sales to be about $1.9 billion in 2021. That tops Walmart, whose Louisville sales totaled a little over $1 billion, according to CSG data. The third largest grocer in Louisville, Meijer, had Louisville sales totaling $311.4 million last year.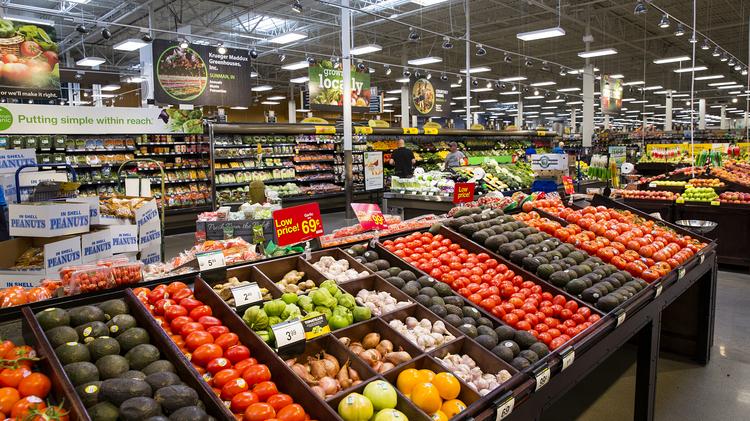 There are a few reasons Kroger, which also operates other brands in the market like Jay C Food Stores, has been so successful here. Reed said the Kroger shopping experience has options for everyone, from pickup, delivery, shipping and in-store. These options are a part of the company's "Fresh for Everyone" commitment.
Along with operating multiple stores, Kroger has formed partnerships in Louisville, from local producers to schools and universities. Reed said the company is the largest purchaser of Kentucky Proud products in the state.
It also has a strong community giving program, and in 2021, the company donated over $4 million locally.
"We have been serving the greater Louisville community for over 90 years," Reed said. "This is our home, and our customers are our neighbors. We love operating store locations here in this wonderful community."
With the new competition coming in, Reed said the store will continue its practices of providing a quality shopping experience and products to customers.
"We continue to focus on what we're great at, providing a friendly and fresh experience for our customers and our associates," she said.
Along with just continuing its services, it has announced new projects in the Louisville area as well. The company broke ground on a new location in May at Commerce Parkway and Ky. 393 in Buckner, Kentucky. Expected to open in 2023, the store will cost about $30 million and create 300 jobs.
Along with the planned new store, Kroger has been renovating some older ones. Last week, Kroger reopened a New Albany location after a $3 million renovation.
Kroger Fulfillment Network LLC, a wholly owned subsidiary of Kroger, announced in January it intends to open a new e-commerce facility in Louisville. It plans to lease an existing 50,000-square-foot facility on Robards Lane, investing $4.1 million and creating 161 jobs.
The new e-commerce facility will expand Kroger's fresh grocery delivery capabilities and support its customer fulfillment center in Monroe, Ohio, by extending the company's delivery reach to provide more customers with access to its products.
And the investments won't stop there. Reed said the company is investing over $20 million in Louisville store locations in 2022.
It's one of Louisville's largest employers with 7,421 full-time local employees, according to Business First research. The company has an annual revenue of $137.8 billion with over 2,700 stores nationwide.
The local challenger
While Kroger and Walmart currently lead the market, there are more than 20 other grocery retailers holding a percentage of the market share. Many of those are based out of state, although a few come from local roots.
ValuMarket is included in that group. With four stores throughout Louisville and its headquarters in Mount Washington, Kentucky, the store holds 1.45% of the market share. CSG calculates the brand totals over $65 million in sales. Neumann said there are about 270 ValuMarket employees.
He said he's intrigued to see how the newcomers adapt to the Louisville market, specifically because of Louisville's low cost of living.
Louisville's home expenditures tend to be lower than the national average, and that includes the average cost of groceries.
"Kroger's been able to do a very good job driving costs out of their systems and turning it into lower (price of) groceries," Neumann said. 'I think Publix ... they're gonna see some items priced so much cheaper than what they're used to selling."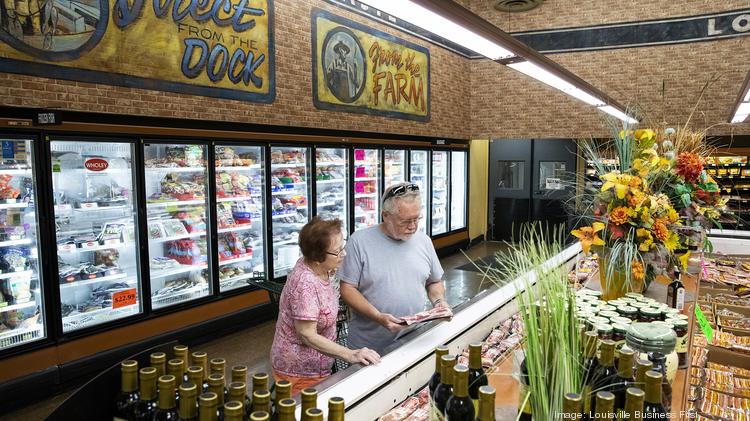 ValuMarket differentiates itself from the larger chains by providing options depending on the store. With the small business model, Neumann said the store is able to match the products to the culture of the neighborhood.
Neumann said locations that are in more culturally diverse neighborhoods will carry unique items to fit the clientele. An example he gave was the Iroquois store, which carries Cuban, Vietnamese and Bosnian meats.
The Highlands store carries more organic and natural products because those customers throughout the years have shown that's what they want.
We could just be seeing the beginning of how the grocery landscape will change in Louisville. Neumann said ValuMarket's strategy is to continue to do what it's been able to for 40 years.
For now, Neumann said he will watch what comes of the new chains, but from a business perspective, what he's concentrated on is Kroger's reaction.
The new Publix and Hy-Vee locations are not close enough to ValuMarket locations to be major competitors.
"Kroger's reaction was really more of what we were concerned with than anything else," Neumann said. "We compete with a Kroger everywhere we exist."